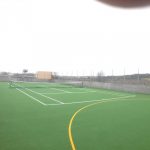 All bookings must be for at least one hour and then after can be by 15 mins
Please click below to make a reservation
https://www.planyo.com/booking/DCA-Multi-Use-Games-Area
Season tickets available for £60 per year (see below)
Below shows the availability, please click the link above to book.
DCA members pay £2.50 per court/per hour
Non DCA members pay £3.50 per court/per hour
If you wish to become a DCA member please visit www.dawesca.co.uk
Membership costs £10 per year/per family
If you have a problem please email richard@machin.f9.co.uk or ring 07711295851
A confirmation email will be sent to you containing the code to unlock the padlock.
If you have a yearly season ticket number this can be entered when booking and there then should be no charge for the booking. Season tickets/coupons can be purchased below for £60 per year.
When paying for the facility, it will ask if you have a PayPal account. If you do not and you wish to pay by debit/credit card please click on "Don't have a PayPal account?"